Poker as a Second Income Winnings
If you have played poker for any extended period of time, then it is likely that at some point you have thought about the prospects of going pro. For most of us though, this is certainly not a realistic goal, but more of a dream. It is however, very possible to earn some extra cash by using poker as a second income.
I can say this from experience, since I have spent many hours playing poker as a second income, with some success. The first question many will ask is, "Okay, so how much can you make playing poker as a second income?" Well, the answer to that is of course somewhat complicated. It depends on a number of factors. First I'll discuss some of the factors, then share my experience.
The first and most obvious is, how good are you at poker? This will definitely have a big impact on the amount that you can make playing poker. Fortunately though, this is only one factor and with a bit of work and dedication, you can improve your poker game. Another factor in how much can you make using poker as a second income is the time you can dedicate to playing and improving your game. The final factor we will consider is the amount of money you have to invest.
Poker bankroll management is probably the largest difference between winning and losing players. If you do not have a plan or unsure of your plan, take a few minutes to read this article on Poker Bankroll Management. Playing poker for a second income without a bankroll management plan is like starting a business without a business plan. It is destined to fail. Sure there are a few exceptions but it is extremely rare and not worth the risk. If you have any intentions of playing poker for anything other than pure entertainment, please read and utilize this poker money management article.
You can see my results down the page. My results are not anything amazing, but I am proof positive that even someone who is not that great at poker can make decent money. If you dedicate time to really and truly improving your game you can make serious money using poker as a second income.
As promised, here is my example of what can be done playing online poker as a second income. My results are not fantastic and I am not an outstanding player by any means. This is just an honest representation of what can be done with some hard work and dedication to playing the game.
Just for a bit of background on my graphs. This is almost entirely from play at PokerStars, although there is a bit from several other sites, including Full Tilt Poker, Absolute Poker and Carbon Poker. During this time I became a Supernova at PokerStars, which definitely helped increase my winnings. As you can see, I earned a little over $10,500 simply by playing poker. Where the real value comes, however, is from my rakeback.
Although on PokerStars there is not actually any rakeback, the VIP Program serves very much the same purpose. You can see some big jumps in my rakeback line. These were VIP bonuses that I purchased from the PokerStars VIP Store with my points. My rakeback, or bonuses, added nearly $8,000 to my bottom line! That's obviously huge. This is the reason that it is so important to choose a good rakeback program or VIP program.
I highly recommend PokerStars and their VIP program. It basically serves as PokerStars Rakeback. Please use PokerStars marketing code psp14011 when signing up at PokerStars and check our PokerStars page for all of the benefits of using this code. PokerStars has even made changes recently that add even more value to your bankroll.
Additional Info:
Game – Full Ring No Limit Hold'em
Tables – Between 12 and 20, usually about 15
Limits – From $.10/$.25 up to $1/$2, with the vast majority at $.25/$.50 and $.50/$1
Time spent playing – about 16 hours per week as a part time job
Poker as Second Income Graph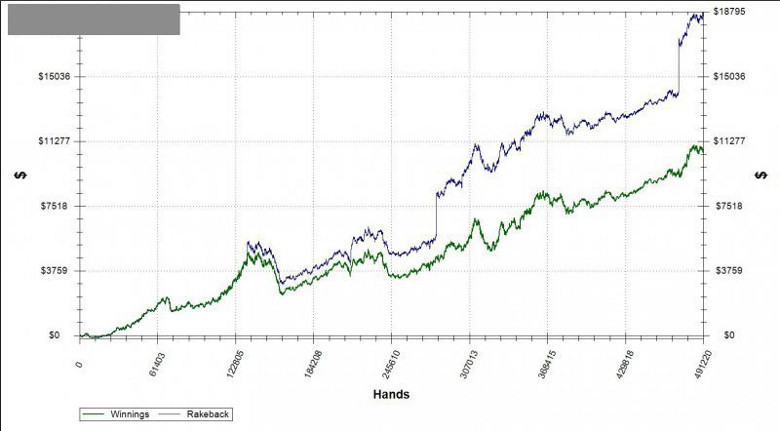 Bonus code: psp14011
PokerStars Information
The Worlds #1 Online Poker Room
100% Bonus up To $600
Exclusive PokerStars VIP Program
PokerStars Marketing Code
Special Offers
WCOOP Series and SCOOP Series
Daily $1000 Freerolls
PokerStars VIP Cashback program
Sunday Million Tournaments